November 11, 2004: I probably should be on these things faster, but when you have 4 kids and you're a single parent, time isn't something that is easy to come by. If it's not one of your kids needing something, it's another one. But the following issue has been so big, captivating our television screens for days that I have to say something about it and maybe during this "shout-out" of sorts, I can find some humor. One canít pick up a newspaper or turn on the news channels without seeing the pictures of the brawl in Indiana where some of the players went into the stands to punch out fans. When I first heard this, I promptly got my dictionary out and looked up the word "basketball." This is how Webster's defines it:
...a game played by two opposing teams of usually five players on a rectangular, often wooden, court with a raised basket at each end: points are scored by tossing a ball through the basket at the opponent's end...
Yeah, me too. I'm beside myself. I didnít think that the definition was that simple. Maybe I should re-read the definition, maybe I missed something, some hidden word that would make me think that the sport not only had points scored by "tossing" a ball into a basket, but also by punching opposing players and then if still unsatisfied, leap into the stands and punch some fans who pay the exorbitant ticket prices to watch your lucky and privileged asses "toss" balls into baskets and in return earn you millions of dollars a year for that privilege. I'm not going to go on a rant about the players' obligations as role models or something as trite as that. Have you seen some of these guys? Out of the entire NBA, there are few players I would have my children look to as role models. There was one fan. The guy who was punched by Ron Artest actually punched him back. I tell my kids if a thug tries to punch you, punch him right back. But first and foremost, avoid fighting if at all possible. Granted the fan was knocked down after Artest hit him, not once, but twice, but I would want that guy on my team any time...beer gut and all. Overwhelmed by an NBA player who not only stood probably 2 feet and something taller than this guy, but also stronger and in better physical shape. I'd take the fan over this Artest thug anytime, he fought back. No fear. There were others involved in the madness, not just Artest. But he was the one who instigated it and caused a situation which could have easily turned into a full on riot.
I respect David Stearn, the NBA Commissioner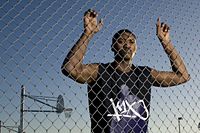 for not beating around the bush and suspending Artest for the rest of the season. Apparently, Ron Artest didnít think he was treated fairly in this case. What? You selfish bastard! The commissioner could have suspended you indefinitely and should have in my eyes. Your past suspensions indicate that you just don't respect the rules. you think you're above them. Maybe sitting out the rest of the year will give you chance to appreciate the lucky hand you've been dealt in being so talented as a basketball player. I donít care how good you are. If you can't play basketball, I mean real basketball, the game of five men per side, then at the game of basketball, you're not worth much. I tell my kids not to use the word "stupid". But I told them that there is no other word to use to define the behavior of this nut. Here's a guy who the Indiana Pacers thought was so talented they should pay him 6.7 million a year. He was riddled with controversy. There was a suspension or two, then missing his plane for a game. And then asking for time off to promote his record label. What?! You're paid to play basketball! The real catch is he changed his number to 91, the same number Dennis Rodman had. Well, because of his stupidity, he's just proven his value. Maybe he should change his number to zero, because for the rest of the seasonóto the rest of his team, and his fansóthat's what he's worth. Zero.
Nowhere in the definition does it say that players should be paid millions of dollars to "toss" a basketball through a basket. What have we done?
Artest said that the fans will always get their 6 million dollars worth. Really? You must possess some kind of mind-over-matter powers of some sort because otherwise, I donít see how you plan to accomplish giving your fans their 6 million worth when you're sitting your sorry ass on the sidelines for the rest of the season and jeopardizing the team's chance of getting into the playoffs? And there's another thing. I don't care how good you are or what kind of individual skills you have on the court or with the ball, if you can't think as a team player or play like a team player than you aren't worth 6 million dollars a year to play in a team sport. Because when you let down your teammates with stupid selfish behavior, then you have no license to be valued so highly in a team sport. Sportsmanship is not just one thing. Sportsmanship is a list of things. Start with "not being a sore loser." And respecting your teammates while still playing aggressively and playing to win. Because what is a game if you're not playing to win? Respect for the rules; even in the face of a bad call. I would pay to watch a Larry Bird, Michael Jordan, Magic Johnson, Jerry West, Walt Frazier, or a Wilt Chamberlain any day over any one of those thugs that try to pass themselves off as sportsmen. They knew the game. They respected the game and they respected the space where the court ends and the stands begin. Unless they were diving for a ball.