June 10, 2006: Did a show for the folks at Montana Area Mutual Cooperative. They are a Farmers mutual insurance organization, providing farmers—duh!—with insurance on their farms, equipment, etc. at a reasonable price. They organized over a hundred years ago, not to make a bunch of money, but to allow farmers and their families to insure their property without breaking the bank. Sounds like an exciting show, right. Okay, stop already!
The group is located in Malta, MT. Yeah, I never heard of it either. So I Googled it. Turns out they'd never heard of it. But I had to find out how to get there. I didn't want to call the contact, (a really nice guy by the name of Ross Simser), because I didn't want to be stupid.
I checked Mapquest and Rand McNally, still no Malta. I found it through deductive reasoning. I decided to ask Congress. My thinking being that if Malta is in Nowhere then Congress would know exactly where they are since they are so adept at approving millions of dollars in taxpayer money to fund projects that build bridges to nowhere and roads to nowhere. It paid off. They told me exactly how to get there. They said, "Go to Denver and ask directions." The folks in Denver said something about Highway 87 North and "all the way." (Actually that was what Ross said. But who's really reading this?) Population 1,976…and that's if you count the sheep.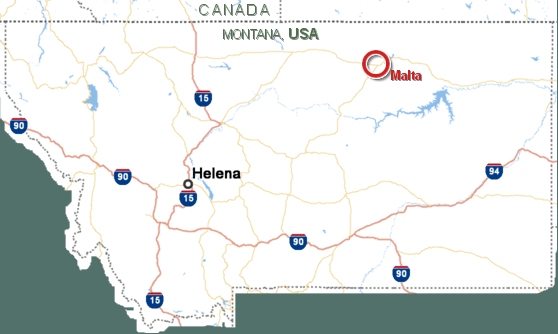 To be quite honest, Malta did show up on the map without much effort. The effort wasn't in looking it up. The effort was in actually getting there once I found it on the map. Malta is two hundred and ten miles away from any major airport—that's if you consider Billings to be a "major" airport. In Montana, if an airport services planes larger than a two-seater Cessna than it is considered a major airport.
So even when I got to Billings I had to rent a car and drive for at least three hours…which is what I did. I got to Billings and rented a Nissan Sentra, because I spare no expense when it comes to car rentals. But I don't like paying a fortune to fill up the gas tank and the Nissan Sentra gets about 40 miles to the gallon. So the Sentra it is. Besides the Sentra is a great little car. It can get up.
Right outside the airport a few miles I found 87 made a left on to it and away I went. It didn't take long until I was in cattle country, and farm country and country that looked like the Indians lived there. You could tell from the trashed automobiles that sat on the property. But this went on for what seemed like forever. Straight and forever. Sounds like a song, "Straight and Forever to Nowhere." I was tooling down the road in the Sentra occasionally coming up behind someone and having to slow a little to ninety or so. What a drive! Not only was the country beautiful, but on occasion I would be at the top of a hill that looked over the horizon for miles and miles. I saw the most amazing thing. A curve! That's right about five miles over the horizon the road curved. My heart raced at the opportunity to actually nudge the wheel a little to the left. The scenery actually was damned beautiful.
That's one thing I do love about this job. I get to travel to places that most people only read about. So to those of you who do check out the "Horse Whisperer". The story takes place in more like the Great Falls area and we were farther East, but it is similar. The hills were green because they had gotten some rain and the creeks were overflowing. There were cows and sheep and antelope and deer all within view of the Highway. There were also plenty of steel silhouettes. Yeah, for some reason there are not enough cows, bison, horses and other animals around, the Montanans love to put out these steel silhouette sculptures of the same. At first glance, they actually look real too. I'm still not sure what that's about.
About two hours into the drive I was wondering when I was going to get there. Fatigue was beginning to set in and considering that I was up at four in the morning and got maybe four hours of sleep, it was about time fatigue set in. I was wondering when the hell I was going to get to Malta. Then, up in the distance I saw a convenience store. I was in luck. I could stop there and grab a coffee or something. I saw cars, a good sign that business was good. As I got closer it wasn't the convenience store that was booming, it was the church next door. The whole town must've been there. I mean really, there were at least twenty cars…okay trucks. There was a line out the door and I figured it must've been a funeral or something. I stopped at the convenience store. It was closed. There was a girl there and I asked her if the store was open.
She said, "No, everyone was at the funeral." I said, "Who died?" "Rudy, the local sculptor."
I couldn't think of anything to say, so I just said, "I'm gonna miss those silhouettes."
I drove some more and low and behold. "Malta," a big billboard read. Big, bright and welcoming, just like a sign you'd see on your way to Disneyland. Except, when they win the big game, no one ever says, "I'm going to Malta!" "Malta." I was there. My eyes focused on the sign and below the words, "Malta," was "55 miles." Damn, these guys really know how to mess with you. My heart sank and I yawned. I was getting tired. I needed something to pep me up. I needed another curve.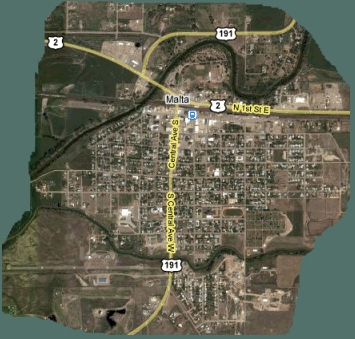 It didn't take long before I got to Malta. Heck at ninety miles an hour 55 miles is only about 35 minutes. I pulled into town and checked into my hotel. A place called the Great Northern. It was a hotel that had been there for a while—120 years, but had been nicely refurbished. At least my room was. It had a mattress and a "Do Not Disturb" sign in both English and Spanish. Right under the words "Do Not Disturb" it says, "No Moleste." At least I hope that's Spanish.
After a bit of a power nap, I went to the gig. It was at the golf course, because it's the only place in town that is large enough to facilitate a crowd of 60. Actually the crowd was more like a crowd of eighty. Eighty years old. Yup, a crowd mainly made up of older people. I wish Ross would've told me, then I would've just stolen Bob Hope's act.
When I arrived they were just starting to eat dinner. Perfect timing, because I was pretty hungry. I had a delicious slice of prime rib. I mean this prime rib was top grade. I knew it looked like there were fewer cows outside. Fortunately the bar had Newcastle beer, so I didn't have to drink crap. I sat by the president of the group and had some delightful conversation. We ate, they handed out some awards and I got up and did my thing. All in all, a good show and what a bunch of nice people. It turns out that it isn't that Malta is nowhere. Malta is just a nice town with really nice people that happens to be in the middle of nowhere.